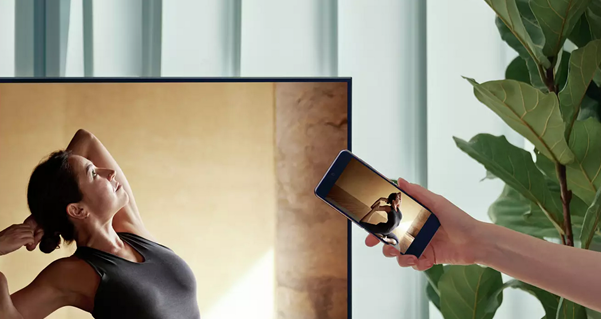 Screen mirroring is a function that gives the ability to send what is on your computer or phone screen via a cabled or wireless connection to your TV. Most smart TVs will have this feature and is usually labelled as screen mirroring or wireless display.
To mirror to your TV, you will need to access the screen mirroring function through either the menu or source list. Depending on your TV, you may be brought to a page with instructions to follow to set up. Typically, you will need to open up a screen mirroring app on your phone or laptop and select your TV from the on-screen list for your device. This will connect with the TV, and allow you to mirror what is on your screen to the TV screen. If the default app is not working, you can try using a third party mirroring app from the app store. We would recommend checking your user manual to check if there is a specified app you will be required to use.
This is a useful feature for those who wish to display their phone content on screen. This can be photos, videos or even websites. It must be noted that screen mirroring will only display the screen and not carry over the sound to the TV.
If you find your phone is not mirroring it may be down to a compatibility issue. Similarly, if your TV does not have a screen mirroring feature then you would not be able to mirror directly to the TV. In this case, we would recommend considering a casting or streaming device, such as a Google Chromecast. You can connect this to the HDMI port on your TV, download the Chromecast app, and follow the instructions to stream to the Chromecast onto your TV. You can view the Google Chromecast here.
For more information on how to use screen mirroring and casting with your TV please refer to your user manual. You can browse our range of smart TVs here.