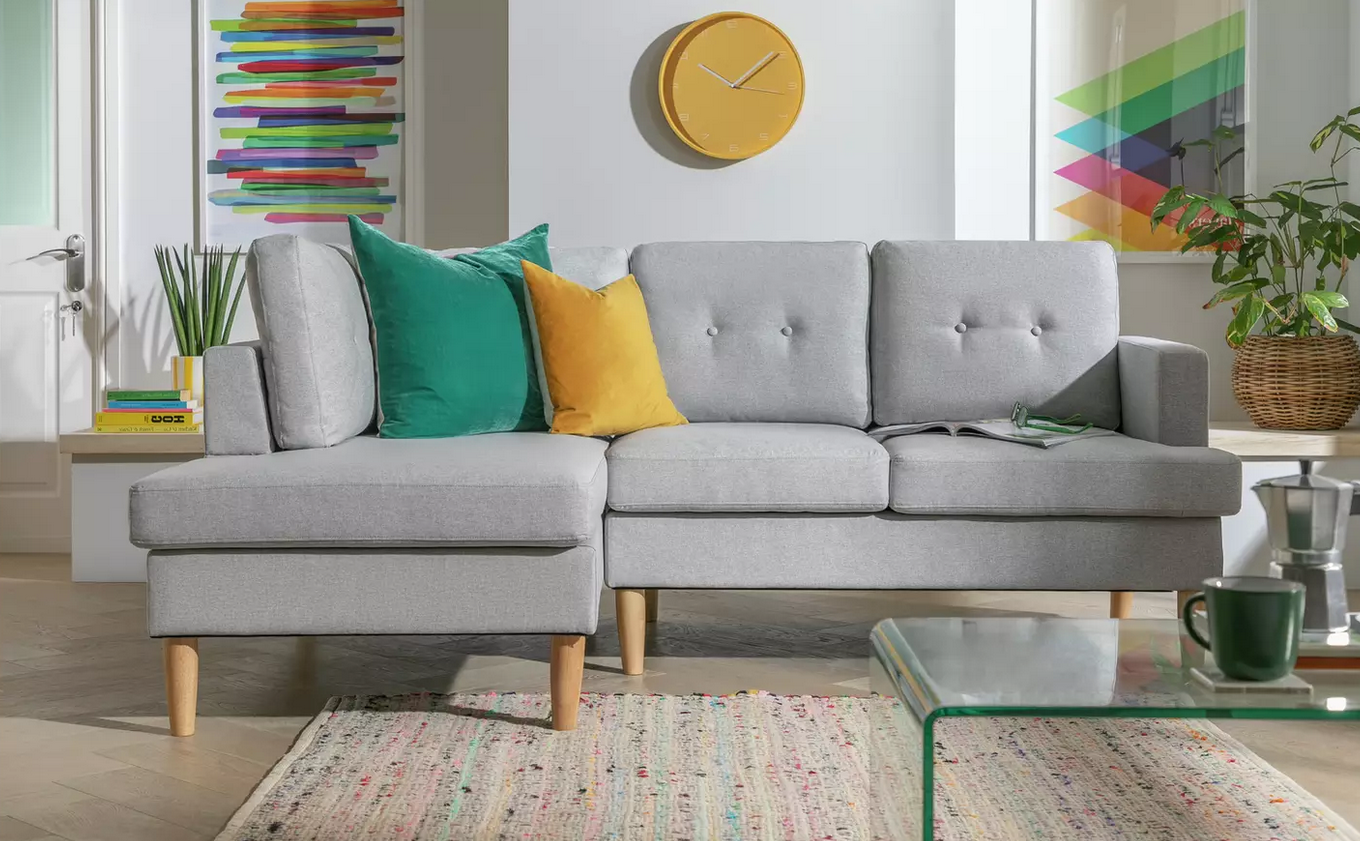 It's that time of year when we begin cleaning our homes ready for spring. But where do we begin? The living room is a communal area for the household to relax, socialise, or watch some television. Below, we have outlined the key areas to focus on when cleaning your living room.
Tackle dirty floors by cleaning carpets and rugs
As the living room is a popular space for the home, dirt will likely be pushed into the carpet overtime from socks and shoes. To get rid of this, you should look to use a vacuum with strong suction to remove the deep dirt. If you're looking to go the extra mile, you may want to consider a carpet cleaner to get a deep, thorough clean. For general care tips on your rugs, click here.
Clean your upholstery
Your sofas should be cleaned regularly as they can easily get dirty from being used all year round. Spring cleaning is the perfect opportunity to do this. Gently wipe down the surfaces (depending on the material), and use a vacuum to suction any dirt which could be stuck in the crevices.
Wash throws and cushions
For those with scatter cushions and throws, having a spring clean is the perfect opportunity to get these washed and plumped up. If the covers can be removed and is washing machine friendly, get these popped in a wash. Alternatively, you may need to freshen these up by scrubbing in the sink. Finish off the cushions by plumping the padding back up. For more cushion care tips, click here.
Vacuum cobwebs from the windows and curtains
In the spirit of spring, you will want to open the curtains and let the sunshine in. You may find cobwebs and dust on your window and curtains/blinds so this will need to be cleaned. To do this, you can try using the different nozzles and accessories on your vacuum which will help to get to the hard-to-reach places.
Dust off shelves and décor
You should ensure any shelving and interior décor is dusted off and cleaned. Over time, dust can accumulate on shelves which we often don't notice. If you're cleaning the whole room, it only makes sense to clean those out of sight places.
Sanitise your tech
If you have any remote controls for a television or games console in your living area, it is important to give these a clean. As living rooms are communal areas, multiple people will be using the remotes which means that they can get a build-up of dirt. Mix some water with a mild detergent, dip a cloth in, squeeze out any excess liquid, and then gently wipe down the remote.
Target the hidden spots behind your TV
Another area to clean is behind your TV or entertainment system. These areas often go un-noticed as we don't generally go behind these devices. Pull them out slightly and use a vacuum to remove dust that is building up behind.
Clean your skirting boards properly
The most traditional way to clean skirting boards is using warm soapy water to scrub and shine. However, you can add a few things in the mix to improve this. Try using a brush attachment on your vacuum to remove any dust, and then follow up with a mop to clean. Although it will have a similar effect, this arguably provides a deeper clean.
Of course, if there are other things in your living area that need to be cleaned too, then don't hold back.
For more of our Spring Cleaning Guides, click the following: