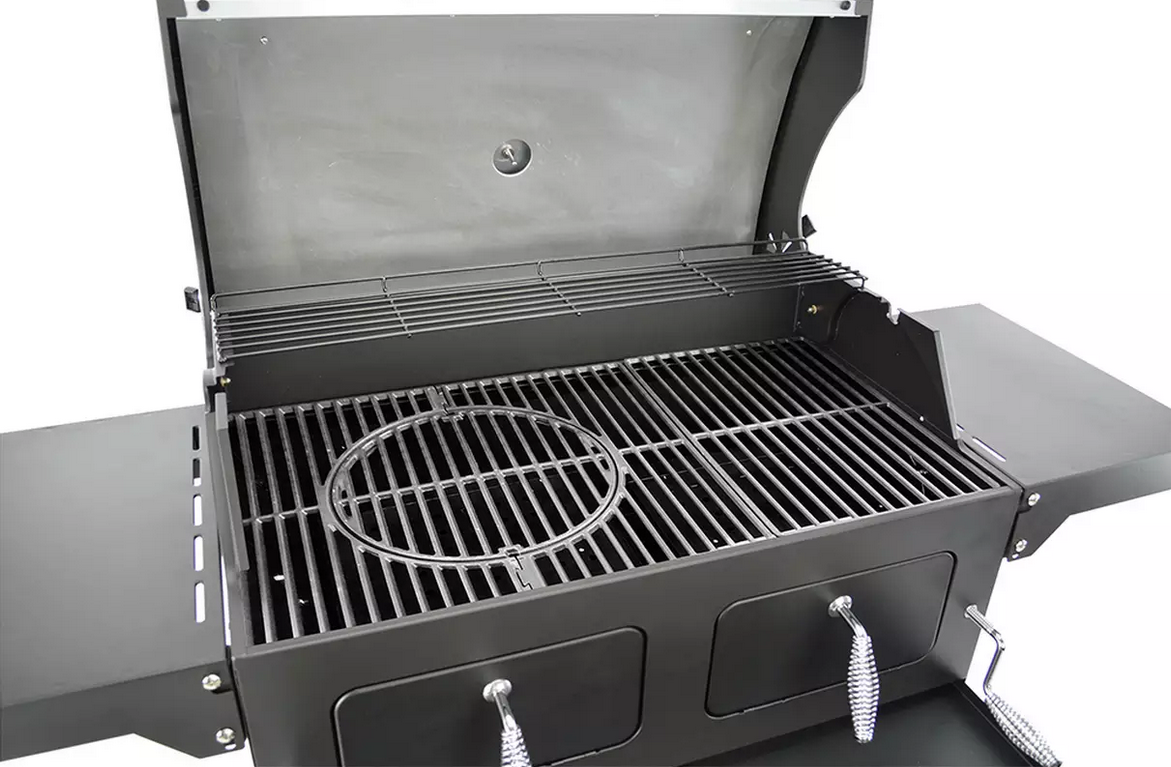 BBQ cooking is a summer tradition in the UK. It's not just about the food, but the social aspect and a chance to show off your grilling techniques. You may have the best recipes and techniques, but did you know the accessories you use can assist and play a part in your grilling? In this article we look at investing in a BBQ accessory set and the key tools required.
The essentials of BBQing
BBQ accessory sets can differ depending on the manufacturer and design, however most sets will include the following essentials:
Tongs: These are needed to ensure you can safely sizzle items on the grill comfortably, whilst offering comfort and ease in turning and moving food.
Skewers: If you're looking to make aesthetically pleasing kebabs using a variety of meats or vegetables, you will need skewers. They also provide assistance ensuring even cooking, as you can simply rotate the skewer to target the cooking.
Forks: You will be familiar with forks from your cutlery drawer, however you can get specific forks for BBQs which are larger instruments to aid in moving items on the grill. You can also use the fork to position in the meat at certain angles to get precision grilling. When using forks, ensure you do not pierce the meat too much as this can result in a loss of moisture and dry your food out.
Spatulas: These are a necessity to flipping burgers and turning food to ensure even cooking, or manoeuvre to grill to perfection. They are also important once the cooking is complete as they assist in safely moving food from the grill to the plate.
Basting brush: These brushes are important to apply oil and sauces to your food whilst BBQing. They are necessary for safe application to avoid the risk of any burns.
Heat resistant gloves and aprons: You may also want to invest in safety gear to protect you when grilling. This is because the safety gear prevents you from any flare ups/splashes from the BBQ. You can read more on how to prevent flare-ups here.
The appeal of choosing a BBQ accessory set
So, now we know the basics that a BBQ accessory set usually include. But why choose an accessory set when you may already have some seemingly suitable tools in your kitchen drawers?
Convenience and organisation: Having a specific BBQ accessory set means that you can have all your tools in one place. This means when you're ready to grill, you can use the set rather than search the kitchen cupboards for all your equipment.
High quality and durable: Tools designed for BBQs are meant for higher temperature and repeated usage. This means that they are more durable than some of the household cooking tools you may already have. As a result, you can be sure that you are able to have enjoyable grilling experiences over and over due to the longevity of the tools.
Upgrades your grilling experience: As each BBQ accessory set is different, some may come with specific tools to enhance your experience. For example, if your kit comes with a grill brush then you can ensure that once your grilling is done you can keep your BBQ in the best condition. You can read our article on cleaning and maintenance tips for your BBQ here.
Before you purchase
When looking at accessory sets, you should consider the following:
Does it meet your needs?: You should think about the sort of food and experience you want to get with your cooking. If you want to make an array of party food and explore colourful dishes, then you should look for a set with skewer accessories. Similarly, if you want to grill lots of burgers for the family, then a kit with a spatula is a must.
How do you maintain the product? Like with any cooking tools, you will need to clean and maintain to ensure a long lifespan. Look for materials that are easy to clean. You may wish to opt for non-stick coating which can simplify the cleaning process.
How does it need to be stored?: If you're looking at a larger kit with an extensive range of accessories you may wish to look at storage hooks or a storage case. This ensures that the tools do not become damaged during storage and can be easily accessed.
Conclusion
As accessory kit can be a small game-changer for your grilling experience. Remember to pick one that suits your needs and take care to ensure the longevity of the tools.
You can view all of our BBQ accessories here.