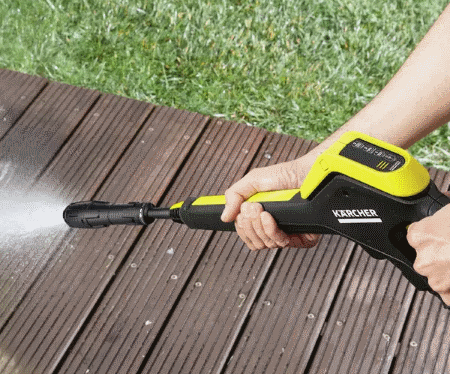 If you're looking to spruce up your garden this summer, a pressure washer is a handy tool to have. They've become extremely popular and have been known to transform patios, outdoor furniture and even BBQ's if used correctly. Here at Argos we have a variety to choose from and we've come up with a few handy ideas for how to clean up your garden using a pressure washer.
Outdoor Furniture
Most composite wood, mesh, plastic and wood patio furniture can be pressure washed. Place the furniture on a level surface, away from any windows. Spot clean tough stains with a soap and brush first. This is also a great way of prepping wooden furniture before painting.
Fencing and Decking
Pressure washers can clean the dirt and grime off of fences and decking easily, and you can also use them to strip the wood if you're looking to repaint. To ensure you don't damage them, use a lower PSI, as too much pressure can erode the wood and ruin it.
Patios
Ensure you sweep away any leaves and other loose debris before pressure washing a patio. You could also apply a detergent to the surface before you pressure-wash which will dissolve the dirt, making the patio easier to clean. Some detergents also have special properties that help reduce the build-up of dirt and could protect the patio from future weather damage.
BBQ
It can be a quick and easy way to clean a BBQ with brilliant results. If you have a standard coal BBQ, then all you need to do is remove any used coals and take the grill out. Prop it up against something sturdy, and it's ready to be washed. If you have a gas BBQ, you need to disconnect the propane tank and the electricals. Following this, you should also remove the grates so that they can be cleaned separately. Ensure you use an appropriate degreaser, as water alone will not be enough to pressure off the baked-on grease and grime. Be sure to check your BBQ's user manual before washing as not all can be cleaned this way.
Recycling bins
Pressure washing your bins regularly will help eliminate germs and nasty odours from building up, especially during those hot summer months. First rinse your bin, then spray with a suitable detergent and leave for a minute to allow the detergent to get to work breaking down dirt and debris, then give it a final rinse. For best results lay the bin on its side so water doesn't get trapped inside, then rinse from the top down.
The key to pressure washing is to ensure you use the correct tip and technique for the job. Pressure-washers usually come with a guide so always read up before starting a project and make sure to test a small area first.