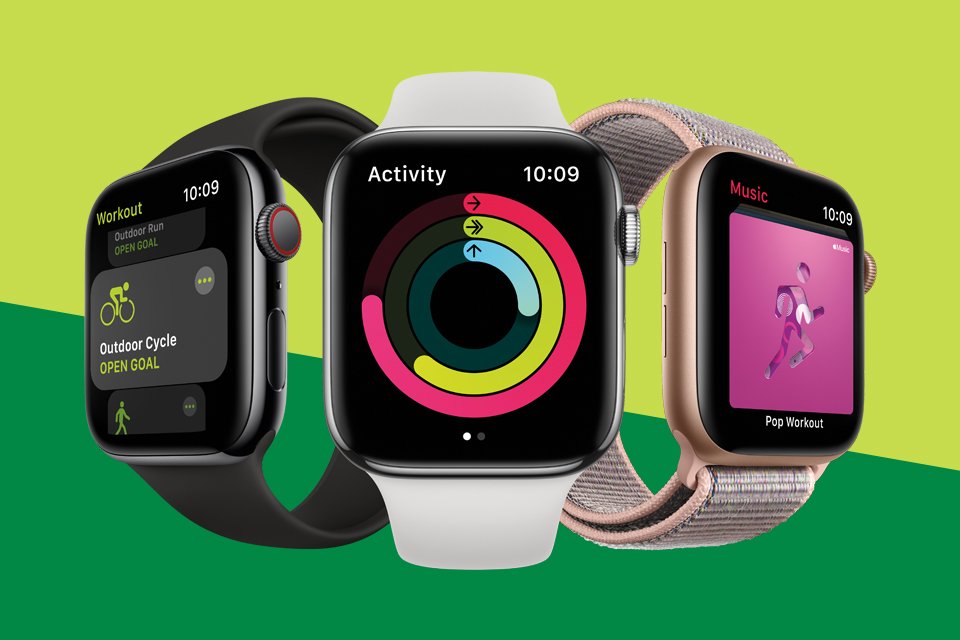 The Apple Watch is the perfect companion to your iPhone and also as its own independent device. Since the release of the latest operating system many more apps are being developed to be compatible with Apple Watch. We will go through a pick of the best apps on the market today in a number of different categories.
Fitness/Health
Tracking our health is a very useful tool in keeping fit and healthy. By collating data through an app we can keep a score on our progress and targets more easily. Here are some of the top fitness apps that can be used with Apple Watch:
Strava

: Run & Ride Training

:

This is a free to use app that also offers a premium service for a monthly fee subscription. The app allows you to track your running and cycling through recording you run, mapping your routes and analyse your fitness performance data through easy to view graphs. It also offers a social feature to allow you to share your performance and view other user's posts and photos.

MyFitnessPal:

This app is free with offered premium subscription that tracks your steps and calories burnt/consumed.

Whilst working in conjunction with the app, the app allows you to keep track of your step count, and also provides nutrient goals broken down into carbohydrates, protein and fats. This helps you to focus on the diet aspect of your fitness journey.

Activity/Cycle Tracking/Heart Rate/Workout:

These are all pre-installed apps provided by Apple on the Watch. As separate apps, they provide exactly what is needed for someone who is new to their fitness journey or a seasoned pro. The apps will collect data and let you analyse you performance.
Sleep
People love sleep and are always looking for ways to improve their sleep and analyse what's going on when they shut their eyes for the night. Here are some apps that are top rated in sleep analysis:
AutoSleep

Tracker

: In the App Store for

£2.99

this app utilises

smart auto features

to learn

when you're asleep

meaning that you don't need to manually input when you are going to sleep

.

It provides graphs and data that you can analyse daily.

Pillow Automatic Sleep Tracker

:

This app is f

ree

to install with

In-App purchases

. It also provides auto features that detect when you're asleep but

also records and monitors apnoea and snoring.

This allows you to analyse the quality of your sleep.

There is also a sleep aid feature that provides sounds to help you sleep.

Sleepzy

:

This app is also f

ree

with In-App purchases. It is a non-automatic sleep app, which means that you do have to

set goals manually

and stick to them for the data to be accurate. The app does provide an alarm feature

and sleep aid sounds.

It is able to r

ecord motion (snoring) and gives detailed reports of data.
Travel
The apple watch is perfect for those that love to travel allowing them to access information easily on the wrist and not have to worry about getting their phones from their pockets. Here are some great apps for travel enthusiasts:
Apple Maps:

(built-in)

–

iPhone users will already be familiar to this app, but the Watch features simplify it for efficient access to getting around. It

supports

the

walking, dri

ving and public transport modes helping to provide

public transport options

such as bus routes, train times etc

.

It also features

turn by turn alerts.

TripIt: Travel Planner

: This app is ideal for frequent travellers

and is one of the top travel apps available! It is free to download with In-App purchases

.

The app gathers all information about your travel plans and creates an itinerary including:

flight time updates, security updates, airport maps

, gate reminders, hotel details and more. It also includes

walk and drive mode

directions

.

iTranslate Translator

: This nifty and very helpful app is the perfect companion for any traveller. This free app is a handy translator enable you to communicate in the local language with over 100 languages

translated. It is able to translate speech, texts and websites It also contains offline mode for when you in those hard to reach signal spots.
Games
Although the Apple Watch is all about the promotion of productivity, people will always have a spare 5 minutes in their day and what better way to spend it than with a game:
Lifeline

…:

This game is

£1.99

to purchase but it's definitely worth it utilises the hardware and design of the Apple watch to create a

Real-Time story game influenced by player's

decisions in the game. P

ush notifications

interact with your day to day life. Players interact with an astronaut trying to stay alive through the decisions of the player.

Snappy Word

:

This free app is great for a quick 5 minute play, where the player tries to make as many words as possible with the letters that appear on the watch face.

Tamagotchi Classic

:

Another paid game at £

3.99

but you get the joy of the 90s on your Apple Watch.

You can play on eit

her your Watch or iPhone looking after your digital pet with nostalgia

.
Email/Messaging/Social Media
Twitter/Instagram/Pinterest

:

These three

popular social media apps all

have

Apple Watch features

. They

work in the same way as the

iPhone

app but with l

imited features that make accessing your social media effective.

Microsoft Outlook:

With this feature you can

access your emails

, calendar inputs and also use Siri shortcuts to assist with this access

.

Walkie

Talkie

:

This is an

in-built

,

nifty communication app for Apple Watch users allowing you to connect with other

Apple Watch users, similar to FaceTime but without the video feature.
Music/Audio
Apple Watch Music:

This is the official

Apple

i

n-built

app that

provides

access to your Apple Music. It is important to

not

e

that Apple Music requires a subscription or

also offers a

three month trial. You can control music from your wrist and access playlists and albums

stored

on your iPhone.

Spotify:

With Spotify you can use it for free or set up a subscription. The watch app lets you c

ontrol your music from

your wrist (play, pause, skip), listen to music and podcasts on your Spotify account and will also show you lyrics of songs.
This article only briefly touches the surface of great apps that are available to try on the Apple Watch, some designed purely for the watch and others to use in tandem with your iPhone. It's best to explore and look at what will be best suited to your Apple Watch experience.