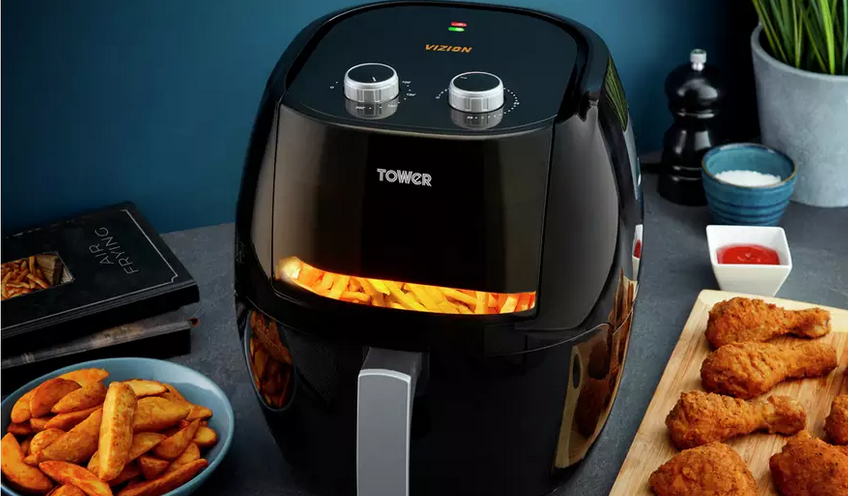 Air fryers have become increasingly popular in the average household. In this article we look at why you may wish to choose having an air fryer in your kitchen.
What are the benefits of using an air fryer?
One of the main benefits of an air fryer opposed to other forms of cooking is the cost. Research conducted by Iceland and Utilita found that an air fryer costs £52.74 per year to power, whilst standard cookers cost between £264-£316. After the initial cost of purchasing an air fryer, it means that they are cheaper to operate. This is important for those looking to reduce their energy costs.
Another benefit is that they are fast and easier to use than standard ovens. This is due to the smaller cavity size allowing the air to circulate faster, which in turns heats up the food quicker. This means you can cut your cooking time down which is great if you're in a hurry.
As a result of the air circulation, air fryers can provide better cooking results. This is especially prevalent for food like potato wedges and chips. If you are looking for a crispier standard of food, an air fryer can help you achieve this. This is due to the food being cooked without, or with little, oil, which helps to give a crispy finish.
Does an air fryer suit your cooking needs?
Although they are great appliances, they may not be suitable for everyone. If you are looking to cook a large quantity of food, you may find difficulty using solely the air fryer as they have a limited capacity. Although you can get larger capacity sizes, they will still be smaller than a standard oven size. This means you may need to cook multiple batches, increasing your overall cooking time. Otherwise, you may need to use the air fryer alongside other appliances such as an oven, which may not be preferred if trying to reduce energy costs.
You may find that your kitchen counter does not fit a standard air fryer. Although they can come in quite compact sizes, not every kitchen countertop will have permanent spacing for one. This may mean they are not suitable for your kitchen.
Are there alternatives to a standard air fryer?
If you enjoy air fryers but are worried about the limitations of food choices, you can always opt for an air fryer multi cooker. As air fryers have become popular, there are many different options available, which provide additional cooking methods alongside the air fryer. As an example, some air fryers also have built in ovens which allow for varied cooking, such as rotisserie cooking.
To summarise
Air fryers are something to consider for the kitchen. Whilst the cost of running is important, the cooking results they can provide is a huge bonus. If you do opt for an air fryer, we would recommend checking to see if there are any particular features you require as some models have extra modes which may suit your needs. You can browse our air fryers and fryers here.