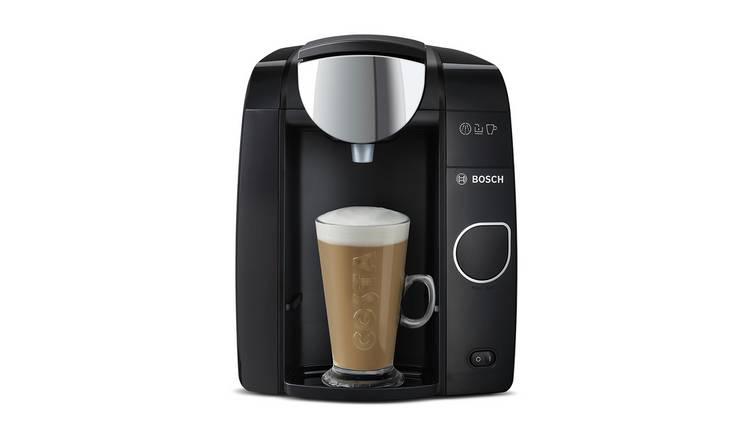 With people now spending more time at home and coffee machines allowing you to have coffee shop quality drinks at home it's no wonder they are becoming popular.
Coffee machines now come in a variety of styles, shapes and sizes to suit every taste and requirement so it's important to do your research so you don't end up with a coffee machine that doesn't cater to your needs.
Some of the key things to think about when choosing your coffee machine:
You can buy coffee machines for as little as £20, however it's important to also look at the overall running costs e.g. price of pods vs coffee beans, and energy consumption - it all adds up!
Always consider the capacity of the water tank when looking at coffee machines, if you're after a machine that makes several cups of coffee in one hit you will require a machine with a larger tank.
You may be after a machine that is quick and consistent, with little to clean up. Some styles require more maintenance than others.
Are you looking for a machine that can make more than a simple black coffee?
Coffee Pod machines
Coffee pod machines (also known as coffee capsule machines) require single use coffee pods which are usually made of thin metal or hard plastic. These, when inserted into the machine, are then pierced during the making of the drink. They are often quite compact compared to other style coffee machines and make much less mess. You tend to have more waste with this style because each drink requires a coffee pod. However, most models have an easy to empty hopper inside the machine that the used pod falls into keeping the countertop free of debris. Always remember to check when buying the pods as some are only compatible with certain machines. The pods are easy to store and come in a vast variety of flavours.
Bean-to-cup coffee machines
If you are after a machine that gives you much more control over your coffee this is it. Every aspect of the coffee-making process can be controlled using this type of machine. The grinding of the beans tends to be quite a noisy task so if you're after a quiet coffee machine this is not for you. These machines grind the beans into fresh grounds to create your coffee. With this machine you can alter the strength, temperature and size of your coffee and most are also able to use store-bought coffee grounds and can come with built in milk frothing stations. They tend to be on the pricier side, however this is normally reflected in the build quality and fancy controls. Some machines also come with 'dual spouts' which means two coffees can be made at the same time.
Filter coffee machines
If you're looking to make large amounts of coffee that can be kept warm and accessed over a longer period of time then a Filter coffee machine is the way to go. These machines are extremely simple to use, hold a larger capacity of coffee and tend to be inexpensive. However the simplicity also means that there's little to alter so you are unable personalize your coffee to suit your taste.
Espresso coffee machines
The ever popular espresso maker can make not just espresso but long drinks as well such as cappuccino and lattes. Similar to the Bean-to-cup coffee machines the espresso machines give you direct access to the grounds which gives you more freedom to alter the coffee to your taste. Some come with a steamer/milk wand which can be used to create frothy milk for cappuccino and other coffees which is great if you are after variety. But beware it can be very messy handling the soggy grounds after the drink has been made, and the steamer/milk wand also requires cleaning after every use. Some espresso machines come with dual spouts so 2 coffees can be made at the same time.
So you might be after something inexpensive and simple to use, or possibly something quick and precise, or you may even be after a high street style coffee that you can alter to suit your own taste -if you're ready to enjoy the luxury of a barista style coffee without having to leave the house, shop coffee machines at Argos.