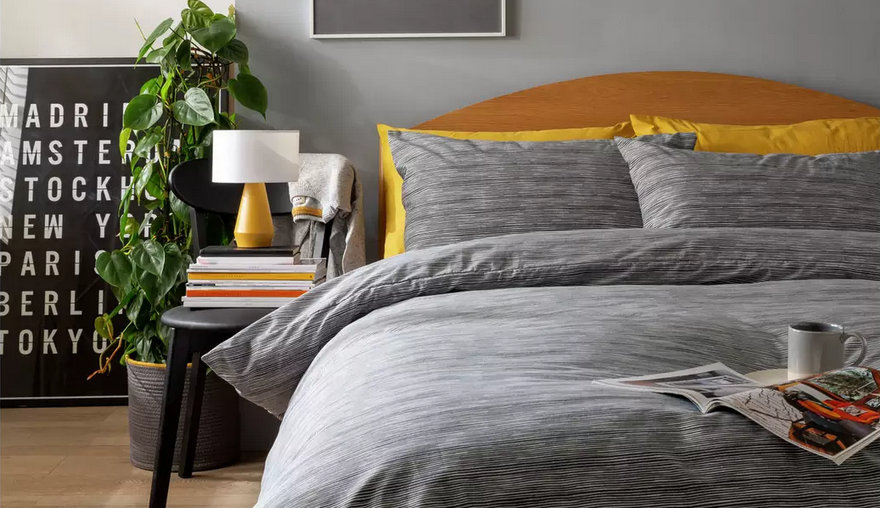 Clean bed sheets are one of the essential ingredients for a comfortable and healthy sleeping environment. It's easy to forget this area of cleaning, as beds are mainly used at night. However, they still need to be cleaned as much as any other area in the home. In this article, we look at some simple, yet effective, methods to keep your bed sheets clean and fresh.
For specific information on taking care of your bed sheets, always refer to the cleaning guidance to get the best results.
Eliminate dirt by washing your sheets
Washing your bed sheets regularly is one of the easiest ways to eliminate the dirt and odours. Whilst it's easy to think you could probably go a few weeks until they visibly need to be cleaned, we recommend washing them once a week to keep them fresh and prevent dirt from accumulating. Once cleaned and dried, ensure that they are fitted back onto the mattress, or stored in a clean environment until they are next used.
Clear up dust by vacuuming your sheets
If you're worried about dust mites or allergens, such as pollen being a problem, then you can tackle this by regularly vacuuming the sheets. We recommend using a vacuum with an upholstery attachment to suction the sheets and the surrounding area, such as the side of the bed, as a preventative measure.
Let the light in with sun exposure
Did you know that you can also utilise sunlight to freshen your sheets? Sunlight can assist in killing bacteria that may be sitting on your sheets. We recommend opening the curtains in the morning to allow the sunlight to shine upon your bed sheets. Similarly, when your bed sheets have been cleaned, why not hang them out to dry in the sunlight rather than using a tumble dryer? This can help to rid of bacteria, whilst also removing energy usage costs of a large appliance.
Target stains promptly
Stains can be an enemy when trying to keep your sheets clean. To prevent stains from becoming a problem, tackle the stains immediately. The best method is usually dabbing lightly to blot away any excess, and then using a mild cleaning solution based upon the type of stain. The general rule of thumb is to avoid hard abrasives and aggressive scrubbing, as this can damage the fabric and potentially further spread the stain. We also recommend cleaning stains on the mattress and duvet alongside the bed sheets, to ensure the whole bed is kept clean and fresh.
Adopt a habit of making the bed
Making the bed is also a highly effective way to keep your bed sheets fresh. If beds are left unmade, then it is easier for dust to settle throughout the day. By making your bed and covering the sheets with your duvet, this protects the bed sheet from dust and dirt, helping to keep fresh.
Conclusion
By using these simple methods you can ensure your bed sheets are as clean as can be. Remember to clean regularly and expose the sheets to sunlight to keep fresh.
For more on looking after your bedroom, check our blogs below: