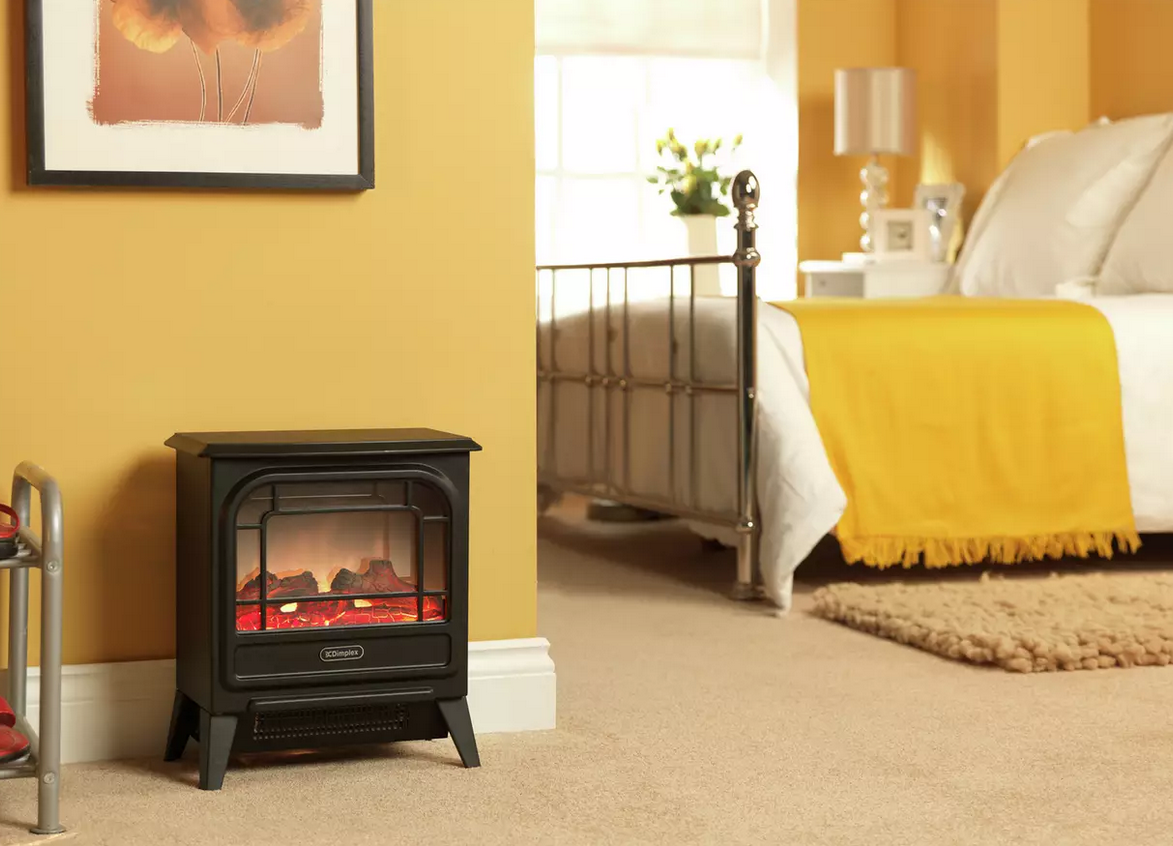 With the rise in energy costs, many of us are looking at ways to cut down on energy this winter. Whilst putting on extra layers is a solution for some, there are other ways you can heat your home at a cheaper cost without turning your heating on. In this article we highlight some of our top picks to help keep warm for less.
Create a cosy atmosphere with a freestanding Micro-Stove
You may wish to consider a freestanding micro-stove. These are little fire-place-esque units which can be turned on with a press of a button without the need for real flames. Below, we have the Dimplex 1.2kW Electric Freestanding Micro-Stove (228/1298). Although it is a small unit, it provides enough heat to warm a small to medium sized room. Alternatively, it can help to background heat to larger rooms. It comes with 2 heat settings and a safety cut-off. An added benefit of choosing a freestanding micro-stove is that it can add a bit of style to your room.
Add warmth with halogen Heaters
Halogen heaters are a good choice for keeping warm. These heaters typically have different settings to choose from to provide greater control over the temperature. For example, the Beldray 1.2kW Halogen Heater (415/3733) offers 3 different heat settings. Generally, halogen heaters are best for occasional use to add warmth, rather than be a solution to heat up a room over a prolonged period. The only thing you need to note with halogen heaters, is that the bulbs are brighter compared to other heating methods.
Beat cold nights with an electric underblanket
Another product to help keep warm are electric underblankets. These are blankets which heat up to make your bed warm, helping to fight off the cold. The Silentnight Comfort Control Electric Underblanket (450/0324) offers a 10 minute heat up time meaning you won't need to wait long to get warm in bed.
Picking an oil-filled radiator
Oil-filled radiators are a common yet simple solution to staying warm. Most of these radiators feature different heating and timing settings. The Dimplex 2kW Oil Filled Radiator (921/2617) features a 24 hour programmable timer to suit your daily routine.
Stay classic with a hot water bottle
Although there are many great tech options, you can also stick to a hot water bottle to stay warm. Simply fill the bottle with hot water, secure the lid, and put on a cosy cover. They are perfect for taking to bed or sitting on the sofa. Pictured below is the Hot Water Bottle with Chunky Knit Cover (213/5739).
To summarise, there are many different devices you can opt for to reduce the cost of energy this winter, whilst still keeping warm and cosy. Most of these options are relatively portable too, so can be moved to different areas of the home if required. You can browse our selection to keep warm for less here.