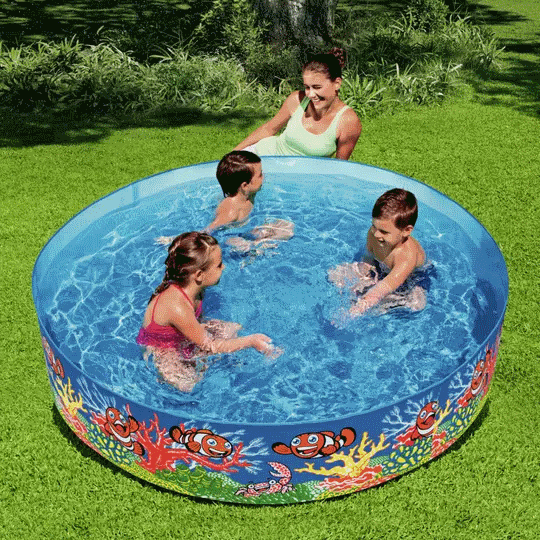 At long last the summer is here and when the sun is shining what better way to enjoy it than to get outside and cool off in a paddling pool. Whether it be water fun with your little ones or taking a time out to relax, here at Argos we have paddling pools to suit everyone and we've come up with a few helpful ways you can make the most out of yours. Shop our range here.
When setting up your paddling pool it's best to have it on a flat surface to avoid the water pooling at one end, of course this is not always possible so if there is a slope ensure that the drain plug is at the lowest end to allow it to drain easier when you are emptying it out.
If you fill your paddling pool up first thing in the morning, by the time you get up dressed and have breakfast it would have had chance to warm up a little allowing that first dip to be a little easier!
You may want to place a picnic blanket or an old rug underneath the pool before you fill it up. This extra padding underneath will help if the ground is rough or uneven and will avoid damaging the pool.
Placing a fitted sheet over the paddling pool is a great way of keeping it mess free overnight. It's good for saving water if you are planning on using it again the next day!
When it is time to empty the water from your paddling pool don't let it go to waste, it can be used to water your garden and plants. Collect the water either by dipping a bucket in or using a hose to siphon the water out. To do this submerge one end of the hose in the pool weighing it down with something heavy, then at the other end suck the water through until it starts coming out, this should drain most of the water. Once the hose is running you could store the water in a bucket or water-butt or even use it straight from the hose. Do not try to move or empty the pool whilst it is full with water as this could damage it.
So while it looks unlikely that many of us will get to holiday abroad this summer, that wont stop us from enjoying a dip in the pool from the comforts of our own garden.