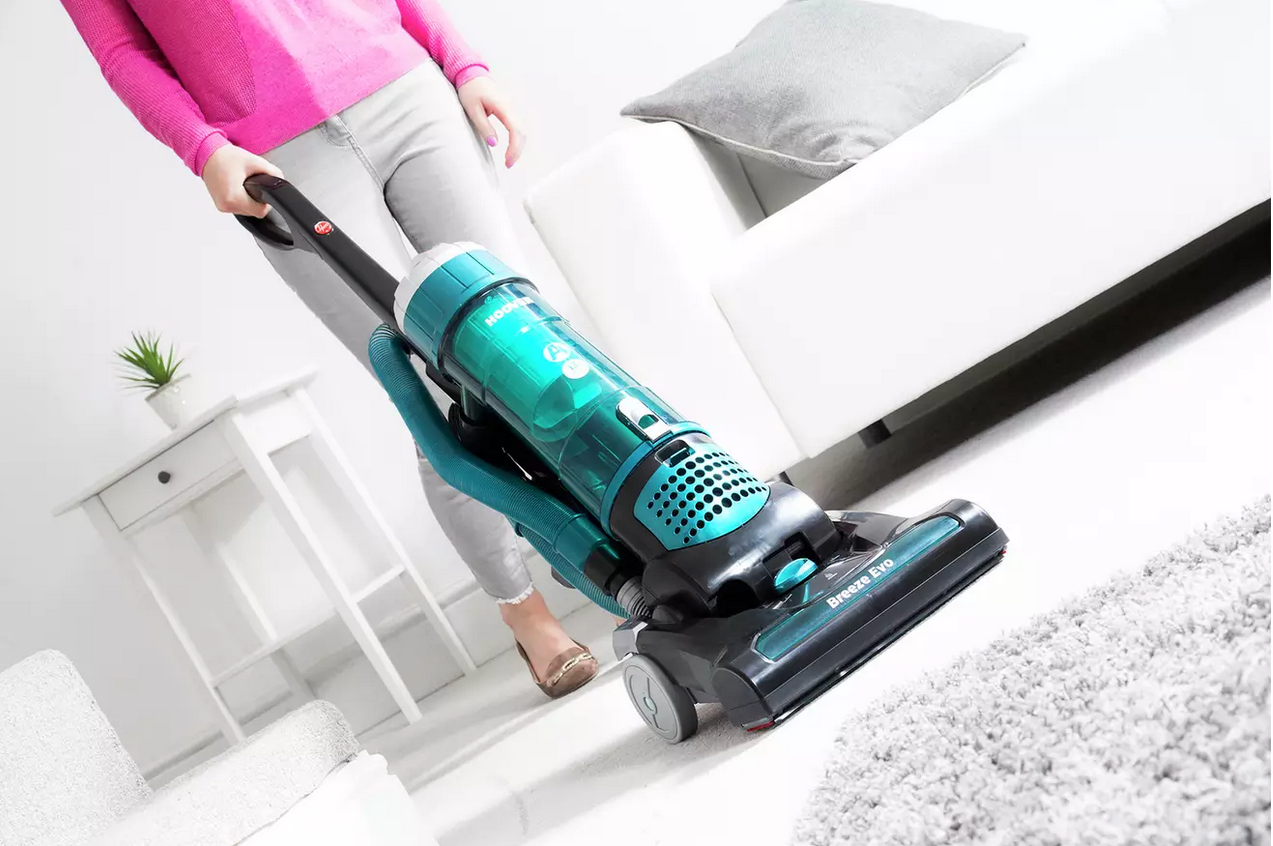 There are so many choices of vacuum cleaners that choosing which one is best for you can be a chore in itself. Most modern vacuums will use HEPA (high efficiency particulate air) filters, which help to trap more particles due to the narrow pathways created by the design of the fibre. However, there are still other things to consider when choosing your vacuum. We have highlighted what you need to know about different types of vacuums below to make it easier to determine what is right for you.
Upright Vacuum Cleaners
Upright vacuums are one of the traditional vacuum styles. They are usually corded so require being plugged into a socket at all times. They are known to have strong suction making them useful for a deep, thorough clean and suitable for cleaning entire rooms. Depending on the style of upright, you are likely to find floor adjustment settings meaning you can use the vacuum on different carpet types. Due to the size of the unit, the dust container is larger meaning they can collect more dirt and typically require empting after use. Pictured below is the Vax Stretch Max Pet Upright Vacuum Cleaner (810/9817). You can view our selection of upright vacuums here.
Cylinder Vacuum Cleaners
Cylinder vacuums are larger, like upright vacuums. Due to their size, they require a bit more force to manoeuvre than upright vacuums but make up for it with their suction strength and the length of the extension hose/nozzle. With their strong suction and sizeable dust container they are perfect for cleaning entire rooms. Pictured below is the Bush Multi Cyclonic Bagless Cylinder Vacuum Cleaner (452/3930). You can view our range of cyclinder vacuum cleaners here.
Handheld Vacuum Cleaners
Typically handheld vacuums are cordless, however you may find some which are corded. You will find that they are lighter in comparison to upright vacuums making cleaning a more comfortable task. Unfortunately, the dust containers for handheld vacuums are normally smaller than their upright counterparts meaning that they will need to be emptied more frequently during a clean as they fill quicker. Handheld vacuums offer a wider range of tools and accessories for more convenient cleaning. For example, extendable hoses for high places or small crevice tools for smaller nooks. These make them perfect for quick cleans such as vacuuming the car interior. Pictured below is the Black + Decker Dustbuster Handheld Vacuum Cleaner (706/6676). You can view our handheld vacuum cleaners here.
2-in-1 Vacuum Cleaners
If you're unsure what you'd prefer, you may want to consider an upright vacuum that can also work as a handheld vacuum. This works by the dust container compartment of the vacuum detaching and working on its own as a smaller unit. The detachable handheld part of the vacuum is much like a standard handheld, normally offering a wider range of tools and accessories for convenient cleaning, whereas attaching it to the main unit allows you to clean a room by gliding it along the carpet. Pictured below is the Bush Stick to Handheld Bagless Vacuum Cleaner (265/9136).
Overall, each vacuum type has its benefits. It is down to personal choice and how you prefer to clean. If you like a bit of everything, then a 2-in-1 may be most appropriate for you but the stronger suction benefits of the upright and cylinder might be best for those cleaning bigger rooms. Please note that the features described in this article do not necessarily apply to every model and the information regarding attachments and accessories can be found on the product specifications on the product page. You can browse our full range of vacuum cleaners and floorcare here.