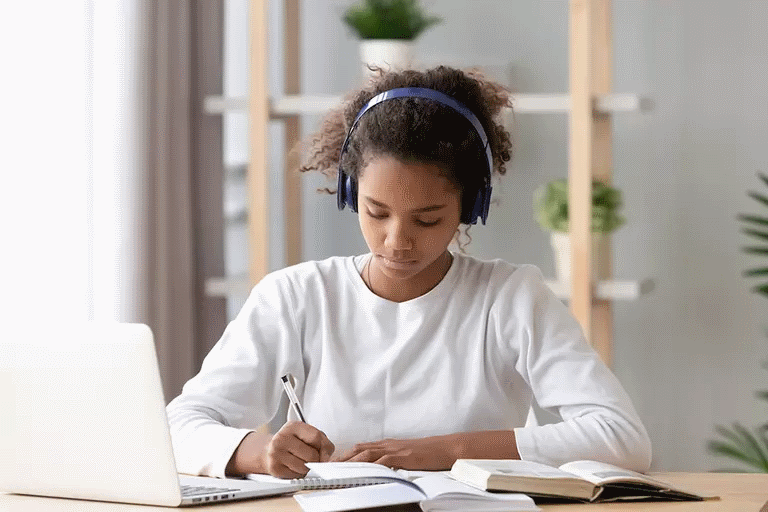 Back to school season is upon us, and with so much choice finding the right laptop to suit your requirements can be challenging. With laptops becoming more essential than ever for students we've come with a helpful list of features to look out for.
Web cams and Microphones
Having a web cam and microphone is becoming necessary for students. Laptops are no longer just tools for writing up coursework and researching for essays, they are now vital devices that can help students attend classes remotely, or keep in contact with classmates, as well as family.
Thin and lightweight
When students are attending classes physically, these laptops need to be thin and light enough to be carried around. Something highly portable like a Notebook or Chromebook may be a good option if you are planning on using it on the go, as these are generally smaller and lighter than a laptop.
Battery life
You don't want to worry about finding a plug socket half way through the day so it's important that your laptop has adequate battery life. Typical laptops last between 6 and 10 hours unplugged whereas a typical notebook lasts between 7 to 14 hours unplugged.
Price
Finding the best student laptop that balances affordability with all the needs for student life is key. You don't want to overspend on a laptop that's far too powerful for your needs if you're only going to be working on basic essays. Similarly, you don't want to underspend on a laptop that won't deliver the performance you need, if - for example - you're going to be editing videos.
Power
It's important to find a laptop that offers enough power to handle essential apps and tasks like document creation, word processing and making presentations. If you're taking a creative course, then you'll need to have a laptop that can run demanding apps like Photoshop, Premiere Pro and others. However, keep in mind that with more power, it's likely you will get a weaker battery life.
Storage solutions
Having plentiful local storage space is less vital now than it used to be thanks to cloud storage and web applications. If you plan to install a lot of programs or want to hang on to lots of large media files, you'll need 500GB of space or more. If you don't foresee needing all that local storage, or are content with leaving a lot of your work online, you can get by with a laptop with less space. If storage is important to you consider your options. If you go with a hard drive (HHD) because you get more storage for less money, know that it will be noticeably slower than a solid-state drive (SSD) which is lighter, more durable, and uses less energy. Your needs will dictate which storage drive will work best for you.
Chromebook
If, like many schools, the one you're attending puts its coursework in the cloud, a Chromebook can offer you much of the functionality of a regular laptop, and it may deliver longer battery life. It will also likely cost you a lot less than other types of notebooks. However, they only run Chrome OS apps and (in the case of more recent Chromebooks) Android apps from the Google Play store. But a Chromebook can be a good, inexpensive, lightweight laptop to take to lessons, and make notes.
Macbook
If you are an Apple fan, you may want to go for a Macbook, they can sync easily to your iPhone and iPad allowing access to things such as contacts, calendars notes and texts. With MacOS's handoff feature it even allows you to start a task on your iPhone, iPad or even your Apple Watch and finish it off on your Mac. It has familiar apps such as messages and mail and although it's on the pricier side of the market it has excellent battery life and with the new M1 chip the performance is now better than ever.
Windows Laptops, Notebooks and 2- in- 1's
Microsoft Windows has been the go-to operating software worldwide. If you are after something more affordable — or more niche — a Windows laptop or notebook might be for you. If you've used any version of Windows over the years, you'll find plenty of familiar features, including a Start menu for quickly accessing apps and a bevy of built-in Microsoft programs. It also comes optimized for touch on supported touchscreen laptops and convertible 2-in-1 devices.
2-in-1's are capable of functioning as traditional laptops when you need them to, but can transform into tablets when it's convenient. Some sport a folding design that flips the keyboard out of the way, usually by rotating all the way around its hinge while others allow you to dock a tablet with an accessory keyboard for laptop-like functionality.
We know that buying a new laptop can be a huge investment especially laptops for students, so it's important to research before making a decision. Visit our Laptop buying guide for more information.