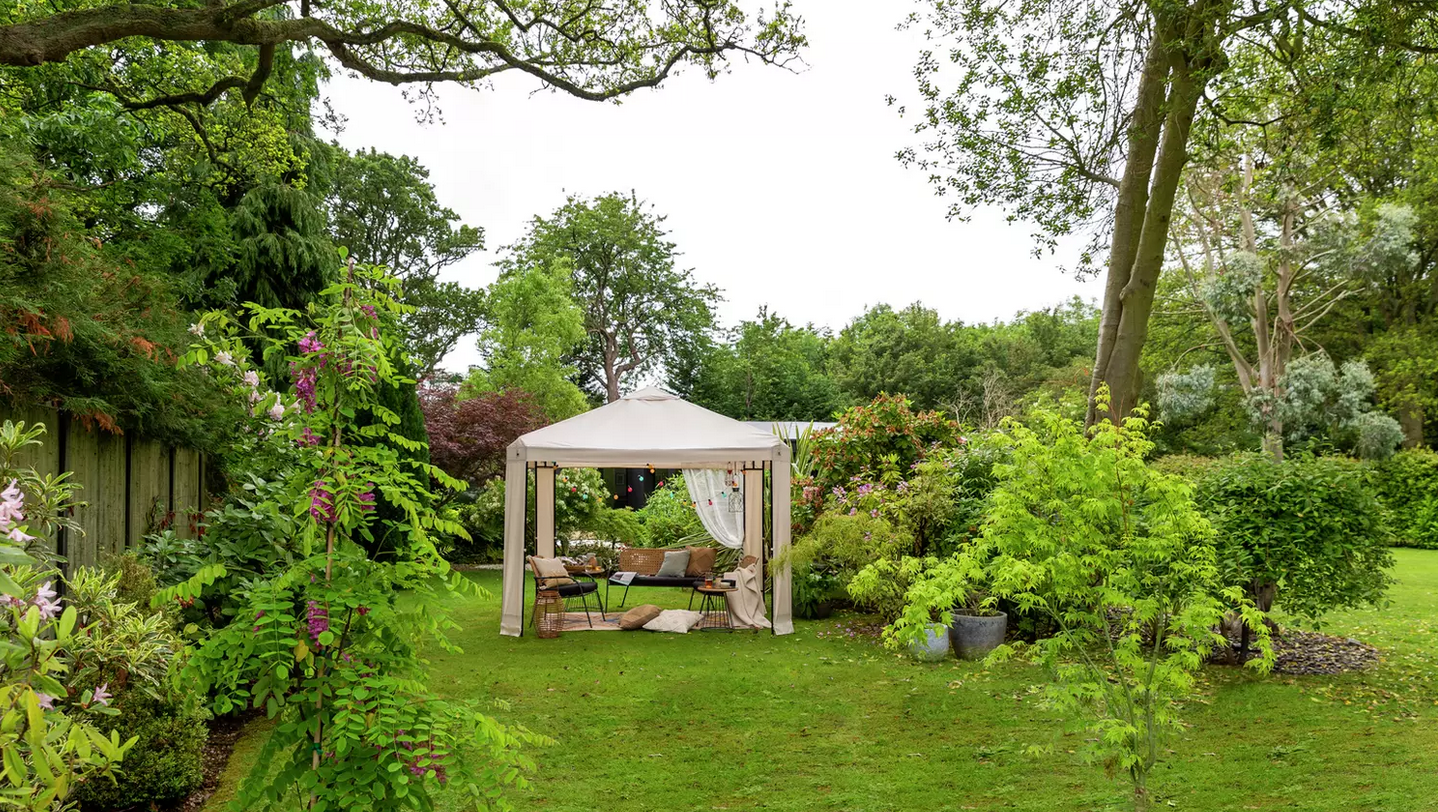 During the summer months, many will consider introducing a gazebo to their garden. Gazebos are structures that offer protection. They are ideal to place over seating to provide coverage and shade. They can also provide a decorative function, helping to create some character or become a conversation piece with any garden décor you may be using. Styles and designs vary, but typically the structure will consist of 4 legs and a roofing. On top of this will sit a fabric panel to create a roof. Generally the instructions will require at least 2 people to erect the structure and the setup will involve fixing metal pegs into the ground to secure the framing to the ground.
Some designs may have side panels allowing protection against light rain. If you own a gazebo without side panels, you may be able to purchase universal panels depending on the measurements of the structure. This allows more protection and coverage if that is what you desire. Side panel sets will usually come with fittings to easily attach to your gazebo.
Although some gazebos can be used all year round, it is recommended to disassemble the unit if expecting harsh, windy weather conditions. This is because a lot of gazebos are not designed to be permanent structures. By disassembling, it can protect the structure itself as strong wind may damage it, as well as protecting the surrounding area from any damage if the gazebo was to move and knock anything. Before storing away you provide a full clean with warm water, avoiding harsh abrasives. You should also check for any insect nests or webs and, if applicable, remove these. Nests will typically collect at the top of the gazebo so ensure to give a thorough check. Once thoroughly clean, the gazebo can be stored in a storage bag to keep safe during the time it is not being used.
Alongside standard gazebos for the garden, you may decide a pop-up gazebo is more preferable. Pop-up gazebos stand out as they are quicker to erect and set up. They are ideal for travel to locations such as fields and beaches, providing quick and easy cover. When it's time to leave, the structures can be easily taken down and stored away for the next trip.
If you are looking for larger shelter you may wish to consider a marquee-style gazebo. Marquees can fit more people and are typically used for events. The maintenance advice is similar to that of gazebos but they can usually withstand more rain due to the size. You should still refer to the instructions for the marquee as they may vary and have specific advice for caring.
Overall, gazebos are a great addition to the garden. Ensure to take care in looking after them during harsh periods of weather to keep in good quality and extend their life. You can view our range of gazebos, marquees and awnings here.