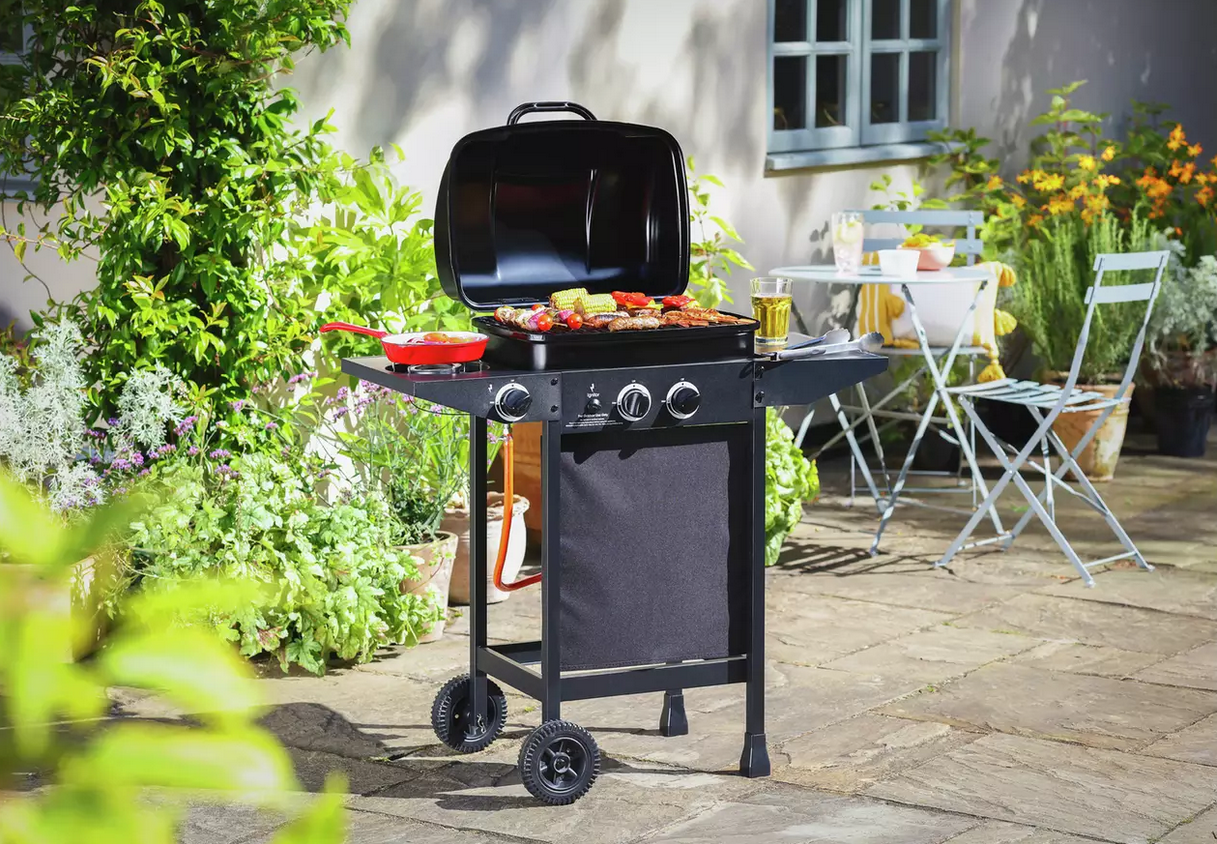 As the sun is getting brighter and the weather getting warmer, you may be thinking of spending more time outside. In particular, it may be the time to introduce a BBQ to your patio to cooking and dining al fresco! In this article we provide everything you need to know to help narrow down which BBQ grill is the best for you.
What fuel type do I go for?
The first thing you need to look at is the fuel type of the BBQ. Generally, there are 3 different fuel types for BBQs; charcoal, gas, and electric.
Stay classic with Charcoal
The most common and well-known fuel for BBQs is charcoal. Charcoal is known for providing high heat when cooking, aiding in great cooking results. It also has popularity due to the 'charcoal finish' it can give food, adding extra flavour and a classic BBQ taste. The main drawback of using this fuel is that once the charcoal has started burning, you have a limited timeframe before it stops cooking and less control over the cooking temperature.
Get some flexibility with gas cooking
Gas can offer ease and flexibility when using your BBQ. It is quick to start up, meaning that if the weather is colder it should still be able to heat to the required temperature. One thing to consider is that you will not get a charcoal BBQ finish from gas cooking. However, if needed, you can try heating up on a higher setting to brown areas which can give a similar effect. This gives more flexibility and control as gas cooking can let you adjust the cooking temperatures.
Easy cooking with electrics
Electric BBQs can offer convenience for those limited with space. Depending on the size, you can usually use electric BBQs indoors. Whilst it's great for those not familiar with charcoal or gas, the cooking results may lack the authentic BBQ taste. This means if you want a BBQ finish to your cooking, this fuel type may not be suitable for you.
What type of BBQ do I pick?
It's not just the fuel type you need to consider when choosing your BBQ, but also the specific BBQ shape and size. This is important to ensure you have the space to cater for your party.
Kettle BBQs
If you're hosting a small gathering of around 4-6 people, then a kettle BBQ might be for you. These units are relatively small but are an easy tool for cooking the classics such as burgers and sausages. You should consider that the cooking surface size may limit from cooking large skewers or a large quantity of food at once. Due to their small size, kettle BBQs can be easily manoeuvred if you need to change your cooking area and to do not take up a large amount of space when storing.
Drum BBQs
Drum BBQs are bigger units making them perfect for cooking food for larger gatherings. As they have a larger food surface, you can fit a larger quantity of food to cook. Equally, you may find the space gives room to cook bigger items, such as larger skewer kebabs.
Trolley BBQs
Similar to drum BBQs, the trolley BBQs are ideal for cooking for larger outside gatherings. They come with a large grilling space for a variety of food, as well as trays/shelves to aid in organising your cooking. The main thing to consider for this type of BBQ is that you have the sufficient space to use.
Portable BBQs
The smallest type of BBQ you will find is a portable BBQ. As the name suggests, these can be used wherever you would like. They are ideal for those looking to cook for 2-4 people on camping trips, picnics, or beaches. You can of course get disposable BBQs if needed, but if you invest in a portable BBQ it means you can reuse it without creating unnecessary waste.
So which is best?
Using the information above you can identify which fuel type and BBQ type may be best for you. There is not a best type of BBQ as each model will vary and you may find specific features that appeal to you. You can browse our full range of BBQs here.
For more of our articles on the garden & outdoors, visit here.